Here's our complete guide to the best Amazon repricing tools going into the new year.
Let's dive right in…
Why Repricing?
Should I Go With The Cheapest Option?
Repricing Checklist
The Top 5 Repricing Tools
Conclusion
As we move into a new year it's important to consider what makes a great repricing tool. Is it being the cheapest tool? How much does automation and speed have to do with it?
We've found that finding the best repricing tool going into 2020 is not a hard thing when you consider what matters most. It's about finding a balance between cost and performance. Going with the cheapest tool is like riding a bicycle in car race. It's cheaper but at what cost.
Why Is Repricing Important?
Why have a repricing tool in the first place? 85%+ of sales come through the Buy Box on Amazon. This shows that sellers should have a strong focus on increasing their ownership of the Buy Box.
Buy Box Ownership is simply the percentage of time that your offer is being shown to potential customers.
As your business grows, so does the number of SKUs. Could you update your price to stay competitive (and in the Buy Box) 24/7? Could your thumbs type fast enough to manage 100s of SKUs at the same time? I'm a very fast typer but by fingers can only go so fast for so long.
Repricing allows you to set up rules and algorithms to automate this part of your business. Repricing tools give you back the time you need to continue growing your business.
Is The Cheapest Tool The Best Tool?
It would be easy to simply pick the cheapest tool and move on. This, of course, would be a massive mistake.
For example, Amazons own Automatic Pricing tool. This tool is completely free but is limited in functionality. It's actually the quickest to reprice down but will never increase your price. So while free, it will never help you increase (or maintain) profit.
We see this same situation with some 3rd party repricing tools. A tool may only cost $25 but if it only reprices your inventory every 15 minutes, the return $0.
Speed is critical for repricing to be successful.
For example, Aura can process 3,000 price changes per minute, per user. That's 45,000 price changes in the same 15 minutes..
On the other hand, going with the most expensive tool can simply be wasteful. For these reasons, we strongly recommend going with a tool that finds a healthy balance of performance and cost, maximizing the return on your subscription cost.
Our Repricing Tool Checklist
Here are the questions you should be asking:
Does the tool integrate with tools like InventoryLab?
Is there a free trial?
How quickly does support respond on average?
How quick is repricing? Is it instant or not?
What marketplaces does the tool currently support?
Is the development team outsourced or in-house?
Can you cancel at any time and take your data with you?
What features am I getting for the cost?
Do you have to pay extra for features like automatically setting your Min and Max prices?
What's the reputation of the company/team? Do people routinely talk positively about them?
Is the company open to your suggestions to make the tool better or are they stuck in their ways?
Now, let's get to our top 5 repricing tools.
For Amazon sellers wanting to get to the next level, here's a list of the best repricing tools going into the new year.
The Best Amazon Repricing Tools (Top 5)
1. Aura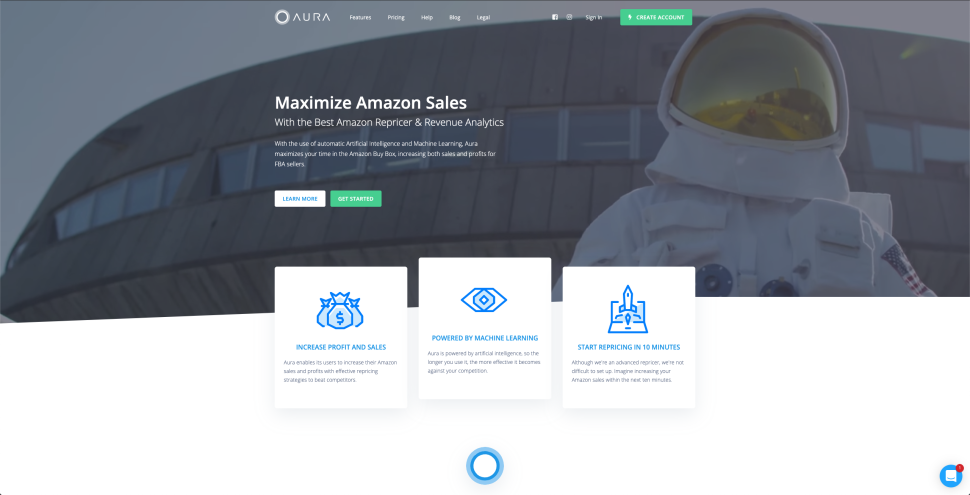 Aura is the new kid on the block making moves. They've been public for a little over a year as of the time of this post but have done things that established repricing tools have not been able to; integrating with InventoryLab, including automatic Minimum and Maximum prices for free, and providing amazing customer support.
Free Trial: 14-Days, with no Credit Card required.
Pricing: $97/month with a 50,000 active SKU cap.
Support: Live Chat
Repricing Speed: Instant
You can start a free trial of Aura here
2. Informed (formerly Appeagle)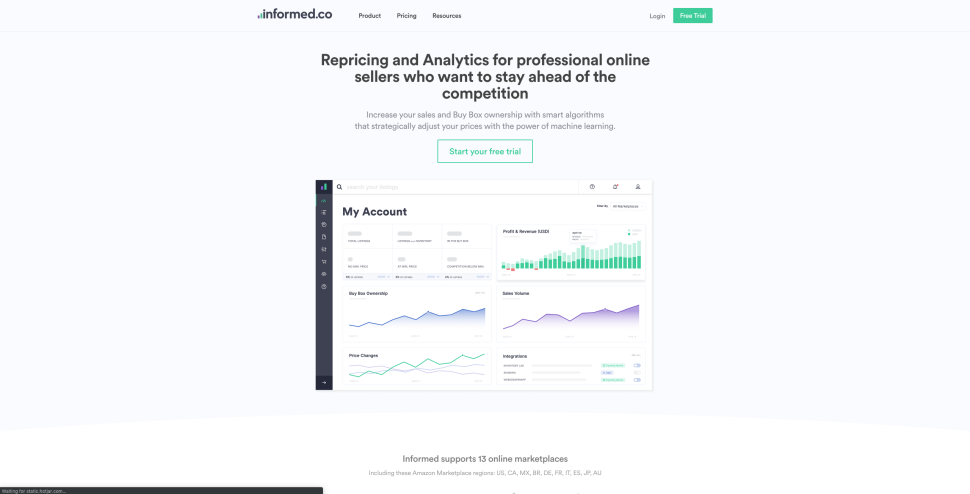 Informed has been around for quite some time. They've been the massive player in the space but have begun to raise prices on even their grandfathered users, which is a cause for concern.
Free Trial: 14-Days,
Pricing: Starting at $99/month for 50,000 listings and caps at $299/month for additional features such as automatic Min/Max prices and marketplaces.
Support: Email and Chat
Repricing Speed: Instant
3. xsellco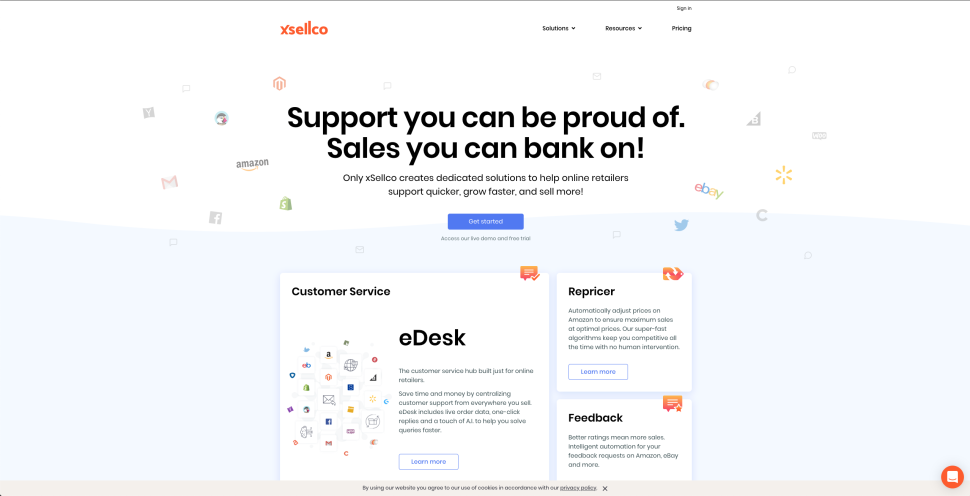 xsellco is not as well known or mentioned in the selling community, but they to have been around for some time. Their base-pricing does only reprice once per hour, which means that you'll need to be on a higher priced tier to receive instant repricing. xsellco is more focused on large enterprise sellers with hundreds of thousands of listings.
Free Trial: 14-Days, with no Credit Card required.
Pricing: Starting at $99/month for 2,500 listings (repricing only once per hour and non-priority support) and caps at $1,499 per month for 1M listings and instant repricing.
Support: Email and Chat
Repricing Speed: Hourly to Instant
4. RepriceIt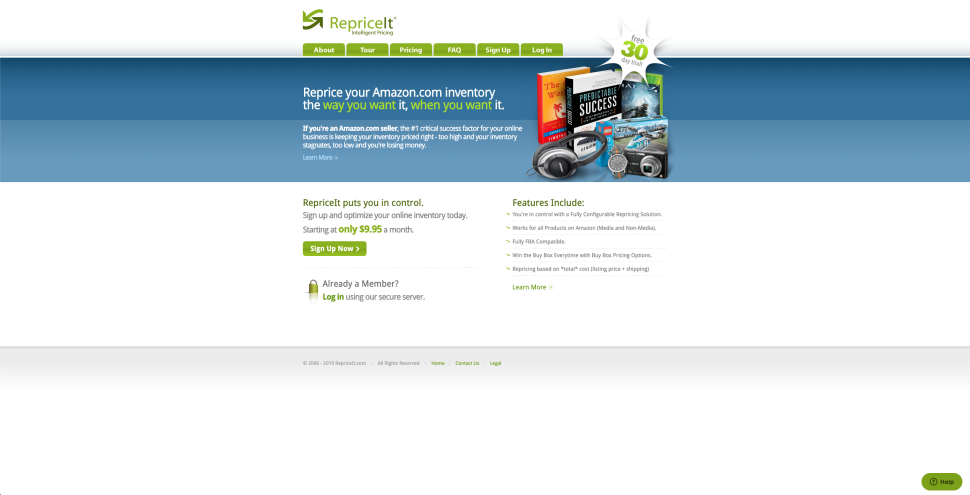 RepriceIt it a favorite among used book sellers. They are a very affordable option for brand new sellers that are cost sensitive as they start at $9.95 /month, which is limited to just 500 listings.
Free Trial: 30-Days,
Pricing: $9.95/month for 500 listings to $79.95 for 100,000 listings with a speed of 500 listings per minute.
Support: Email and Chat
Repricing Speed: Limited to 500 listings per minute.
5. ChannelMax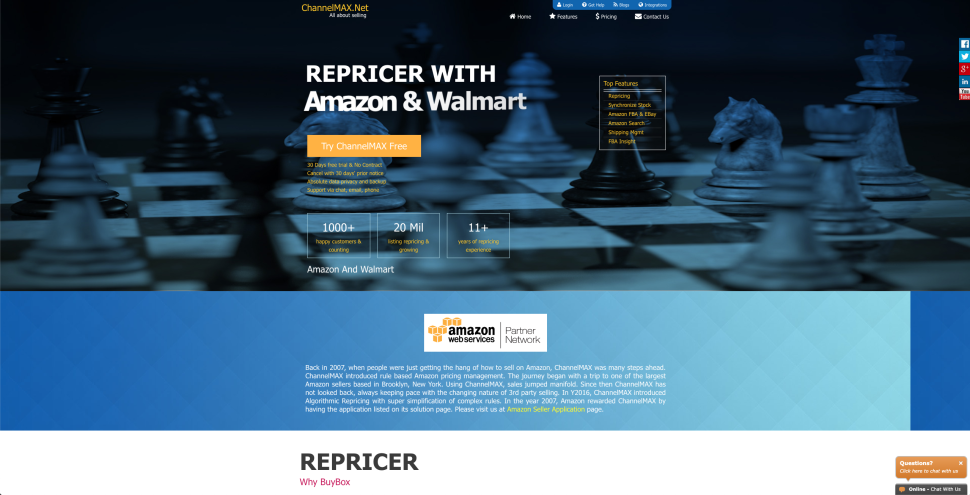 ChannelMax takes a slightly different approach by offering a few alternative features not related to repricing and offers more pricing tiers, broken down by the number of listings you currently have.
Free Trial: 30-Days, with no Credit Card required.
Pricing: Starting at $34.99 for 500 listings and caps at $499.99 for 500,000 listings.
Support: Email and Chat
Repricing Speed: Varies but does offer Instant
Conclusion
When you begin using or changing your pricing tool don't look solely at the price or features. Instead, look at both together and see which tool gives you the ideal balance.
Remember, you don't want to be on a bicycle in a car race.